Introduction
Marvel Studios approached us to assist in delivering a simple graphics package to be projected onto an 80 foot screen for the Summer blockbuster, Iron Man 2. Impressed with our team's ability to immerse themselves in this world, Marvel Studios continued to seek our assistance in bringing numerous elements to life. Our role on Iron Man 2 increased tenfold as our team delivered over 125 shots, including the concepting, design and animation of various futuristic interface elements.
Future User Interface and VFX Montage
THE STARK EXPO KEYNOTE
Our involvement in Iron Man 2 began during principal photography of the film. We crafted a video to accompany a speech given by Tony Stark, announcing the return of the Stark Expo. This video would playback live on stage behind Robert Downey Jr. during filming. This video needed to play back live on stage behind Robert Downey, Jr. as Tony Stark delivers his keynote in a rock concert atmosphere on a 80 foot wide screen.
Stark Expo Opening - Animation Preliminary Designs & Motion Tests
Tony Stark's presentation eventually leads into a piece of vintage footage featuring his father, Howard Stark, giving a presentation recorded in the early seventies. We researched vintage logo animations which inspired us to match the appropriate era of this presentation for Howard Stark.
Iron Man 2 Stark Expo Animation
FINAL STARK EXPO SCENE
The final elements for the Expo Presentation were projected onto a large 80 foot wide screen as part of a massive set built near the Sepulveda Dam.
STARK TECHNOLOGY
Upon successfully delivering all of the elements, we moved our attention to something we were fascinated with. While presenting concepts for the presentation, the client noted that one design in particular (see lower left panel of Expo Frames) reminded them of Tony Stark's phone, a prop seen throughout the film.
The moment the people at Marvel mentioned "it's like an iPhone, but transparent glass", we all knew that whether requested or not, we had to mock up a test of the "Stark-Phone" in action. Without any brief or knowledge of the screenplay, we explored and fully prototyped several interface concepts for this glass smart phone device.
Iron Man 2 Stark Industries Smart Phone Motion Prototype
After presenting the test, We were contracted to complete a wide range of shots containing the phone in the film, in addition to numerous other elements, including the glass coffee table interface, window monitors streaming live cable news feeds, and various other screen designs and user interface elements—none of which had pre-existing concept art.
HOLOGRAMS AND CONCEPTUALIZING J.A.R.V.I.S.
We conceptualized an elaborate series of sequences taking place within Tony Stark's garage-workshop. The creative challenge was to build the visual manifestation of J.A.R.V.I.S. itself in a fully immersive holographic environment.
We completed this early test demonstrating the incredibly sophisticated and three-dimensional interface surrounding Stark, as well as several additional concept art renderings. The objective was to design an interface that was as beautiful as it was functional, yet had a considerable amount of impressionistic and artistic flair since Stark is the modern day DaVinci of the digital era. In a sense, Jarvis is actually a visual representation of Stark's imagination and genius level mind.
HOLOGRAPHIC PERIODIC TABLE TEST - DELETED SCENE
In this deleted scene, this motion test depicts Tony Stark combining 2 elements from a holographic periodic table in order to create a brand new element. Combining Tony Starks genius and the help of J.A.R.V.I.S., our team captured his relentless search for the solution to his palladium poisoning. This scene can be viewed in the extras on the DVD.
Iron Man 2 Holographic Periodic Table Test
STARK SMART PHONE
We designed and conceptualized the innovative Stark Smart Phone, breaking new ground with hand held computing UI design. It was important to balance the complexity and sophistication of an interface that felt futuristic, and were familiar and phone-like.
We worked with Director Jon Favreau and VFX Supervisor Janek Sirrs in striking that balance and were grateful for their insight and impressive attention to detail. We also created an interface that would function properly within the context of the already shot footage of Robert Downey Jr. improvising gestural inputs with a blank phone.
The first step in the design process was to present flat designs of the interfaces, immediately followed up with with the interface ideas temporarily composited in a plate from the film.
Stark Phone Concept Designs
STARK PHONE BEFORE & AFTER
Once the final design was approved, we animated the smart phone performing a number of different tasks during Tony Stark's Senate hearing. Tony Stark uses his smart phone to scroll through various video files, as well as hack into the Senate hall's video feed to take over the monitors.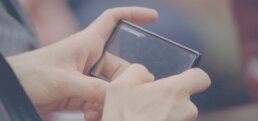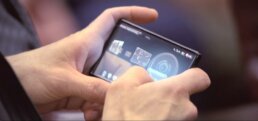 Stark Phone Courtroom Scene
SMART COFFEE TABLE
Tony Stark's "smart glass" coffee table was a particularly fascinating element to work with, not only as a cool technical gadget, but as an element that provides context for a new character and an outlet for Tony's personality.
In this sequence, Tony Stark is utilizing the table to conduct a "background check" during an interview with Natalie Rushman (Scarlett Johansson). We started by focusing on the general layout of the interface, which allowed them to conceptualize ways for Tony to perform something as simple as a Google search.
It was important to Jon Favreau and the team at Marvel Studios that the coffee table interface be legible and logical, while still appearing to be several generations beyond the typical user experience.
We presented two versions of each of six concepts: one with the graphics flat in the frame as if a "screenshot" so that Favreau and his team at Marvel could inspect every detail, and a version with the interfaces temporarily composited into the scene to provide an accurate view of how the interfaces would work in the context of the final shot. Once a direction was approved, we worked with the Marvel team in refining the content contained within the interface, as well as adjusting the timing and pacing to match the narrative leading to the final shots used in the film.
Smart Coffee Table Concept Designs
Stark's Interactive Smart Glass Coffee Table In Scene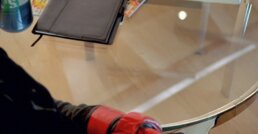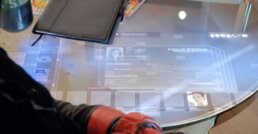 SMART GLASS TELEVISION
In the film a constant news feed from multiple networks was feeding J.A.R.V.I.S. breaking news. Tony keeps tabs on the feed via the multiple television screens which appear embedded within his home windows.
In creating television displays for Tony's "Smart Glass" Windows, we were tasked to frame broadcast footage with enough additional layers of information so that weather, stock prices, and various news feeds were all available at a glance.
SMART MIRROR DESIGNS
Tony Stark's bedroom mirror is another element that appears on-demand, based on his location. Not only does the glass transform into a mirror, but numerous widgets appear around the perimeter.
MONACO RACE BROADCAST GRAPHIC PACKAGE
Marvel Studios asked us to lend some authenticity to a large set piece in the film, the Monaco Grand Prix. We utilized our past experience with Networks in creating on-screen graphics that would display the Monaco Grand Prix as a worldwide televised event. It was important that the Monaco graphics had the slickness of a high-profile broadcast package, while maintaining the European sophistication of Formula 1 racing. We started with numerous concepts for both a title treatment, as well as leaderboard graphics.
ADDITIONAL SCREEN DESIGNS
We created a number of designs for a wide range of additional video assets, from military presentation graphics to news station lower thirds, to classified footage overlays. Each one lended an added layer of authenticity in bringing these fantasy elements into a more recognizable world.
CONCLUSION
It was truly an honor for our team to be involved in such an exciting project, and those who have spent time in the hallways of the office understand the level of excitement to be involved in the Marvel Universe. The enthusiasm everyone has towards this project allowed us to collaborate while challenging each other, as well as keeping us positive, motivated, and energetic. Our biggest thanks to Jon Favreau and the entire team at Marvel Studios for a fantastic collaborative experience.
THE RESPONSE
The reaction to the film has been staggering. Having the 5th largest opening weekend ever at over $128 Million, Iron Man 2 was the third largest grossing movie of 2010. The response to the work that we contributed to the film has been phenomenal. Breaking the story about our involvement was Engadget, the #1 website for technology news, followed by Gizmodo, Forbes, Greyscalegorilla and a number of other sites. Check out some of our work mentioned here.